Today's guest blogger is Laura Bickle. Her debut novel, Embers, is first in an exciting new urban fantasy series that continues with her forthcoming second novel, Sparks. Laura also writes as Alayna Williams. Alayna's "debut" will be Dark Oracle, Pocket Juno's June 2010 release.
Magical Places: Serpent Mound
Some places are magical.
There are some places that lodge in your memory like a splinter. Places that have their own pull, that bit of extra gravity that makes me want to include them in a book. For me, one of those places has always been Serpent Mound, and I included it as a setting for EMBERS.
Serpent Mound is the largest serpent effigy mound in the U.S. It's located in rural Ohio, in a green meadow near forest – overall, a very peaceful place. I remember that my late grandfather took me there as a child. It's about 1330 feet of coiling serpent, swallowing an egg. It was build around 800 BC by the Adena. Smaller burial mounds dotting the area were built by the Fort Ancient people. The head of the serpent faces the summer solstice sunset. Grass has grown up over the undulating curves of the mound. When I was a small child, I remember stroking the grass over the surface of the mound, wondering what lay beneath. Scientists have found melting in the rock beneath the mound – what they call a "cryptoexplosion structure" in the rock. It's the result of intense heat.
And that question worked its way into EMBERS, bubbling up years later. In EMBERS, my heroine, Anya, travels to Serpent Mound to find clues about a magical creature, a large dragon called a Sirrush. She finds that the ghost of an Adena woman, walking along the edge of the mound, patrolling. Beneath the mound, a dragon sleeps. The Adena woman patrols the area to make certain the dragon does not awaken. Anya realizes that her destiny is the same as the Adena woman's – she must find a way to make certain that the Sirrush hibernating in the salt mine beneath Detroit does not arise, even if it means the sacrifice of her life.
As an adult, I went back to Serpent Mound to do research for EMBERS. It was smaller than I remembered. I didn't need to reach up to touch the grass at the top of the mound. But it was, in many ways the same: eerily silent, peaceful. It was a magical place worth revisiting both in person and in the book.
Contest:
In celebration of the Embers book release, Laura has generously donated one signed autographed copy of the book to one lucky reader. To enter the contest you must do one of the following actions. Contest closes on APRIL 2nd @ 12 PM EASTERN!!
1. Post about the contest on your blog. (Must include link in comments below for verification)
2. Tweet about the contest on twitter. (Must include @wickedjungle in the tweet to be counted!)
3. Add Wicked Jungle to your blogroll. (Must include link in comments below for verification)
4. As an added bonus, we will award two entries to anyone who uploads the Wicked Jungle badge (see below) to their sidebar.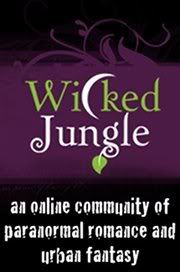 E
xcerpt:
Chapter One
Truth burned.
It always burned, even in the dark, cold hours of the morning when nearly everything slept.
Anya stood on the doorstep of the haunted house, hands jammed into her pockets, stifling a yawn. She'd taken a cab, not wanting her license plates to be seen and recorded in the vicinity. The cab had peeled away, red lights receding down the gray street. The two-story brown brick house before her looked like every other house on the block, windows and doors ribboned in iron bars. Cables from the beat-up panel van parked curbside snaked under the front door, but no light shined inside. Empty plastic bags drifted over the cracked sidewalk until trapped by a low iron fence.
She poked the doorbell. Inside, she heard the echo of the chime, the responding scrape of movement. Anya wiped her feet on the doormat duct-taped to the painted stoop, waiting.
A lamp clicked on inside the house, and the door opened a crack. "Thanks for coming," the masculine voice behind the door said.
"It's not like I could say no."
That was the truth; it was not as if she could turn down what they asked, even if she wanted to. She held back a larger truth that scalded her throat: And I wish you would stop calling. I wish you would stop asking me to do this.
Anya stepped over the cords into the circle of yellow light cast by a lamp with a barrel-shaped shade in the living room. The shade's wire skeleton cast dark spokes on the ceiling, illuminating a water stain that had been carefully painted over. But the water had still seeped through, yellowing the popcorn ceiling. A wooden console television sat dark and silent as a giant bug in the corner, rabbit-ear antennae turned north and east, listening for a dead signal. A shabby plaid couch dominated the room, covered with out-of-place pieces of tech equipment: electromagnetic field readers, digital voice recorders, compact video cameras. Laptop computers were propped up on TV-tray tables, casting rectangles of blue light on the walls.
Anya's gaze drifted to the video cameras, then shied away. "I don't want to be recorded."
"We know."
Jules, the leader of the Detroit Area Ghost Researchers, leaned against the wall, nursing a cup of coffee. No one would ever suspect Jules to be so deeply interested in the paranormal that he would lead a group of ghost hunters. He was the epitome of an ordinary guy: early forties, slight paunch covered by a blue polo shirt, well-worn jeans. A tattoo of a cross peeked out underneath his sleeve. Exhaustion creased the mahogany face underneath the Detroit Tigers baseball cap. Judging by the amount of equipment and the rolled-up sleeping bags in the corners, DAGR had spent a number of nights here.
Anya perched on the edge of the couch, rubbed her amber-colored eyes. "What's the story?"
Jules took a swig of his coffee, creamer clinging to his dark moustache. "We first took the case two weeks ago… the little old lady that lives in the house was convinced that her dead husband was coming back to haunt her. She described lights turning off of their own accord, dark shapes in the mirrors."
"Did she come to you or did you find her?"
"I found her." Jules worked as gas meter reader in his day job. He had a knack for easy conversation, and people instinctively trusted him. Anya suspected he might have some latent psychic talent in getting a feel for places and people. He had an affinity for most people, anyway. Jules seemed wary of Anya. She didn't think he liked her much or thought very highly of her methods. But she got the job done when Jules couldn't.
"She's got a basement meter and was afraid to go down there all by herself. Neighbor lady who used to do her laundry won't do it anymore…said a lightbulb exploded while she was loading the washer." Jules took a sip of his coffee.
"What evidence have you found?" Anya asked.
Brian, DAGR's tech specialist, peered over one of his computer screens and took off a pair of headphones. "Come see."
Anya sat beside him on the sagging couch that smelled like lavender. Brian scrolled through some digital video; she assumed it to hade come from a fixed-camera shot of the basement stairs. A flashlight beam washed down the steps, green in the contrasting false color tones of night-vision footage. The glow from the screen highlighted the planes and angles of Brian's face. Anya noted the circles under his blue eyes and his mussed brown hair. She thought she smelled the mint of the caffeinated shower soap he favored still clinging to him.
Anya never asked where Brian got all his techno-toys. She knew that most of DAGR's clients had little money and donations were few and far between. DAGR was more likely to be paid with an apple pie than cash. She suspected that Brian borrowed much of it from his day job at the university. Apparently, the eggheads in the IT department never seemed to notice that things kept disappearing into Brian's van.
The footage paused, fell dark green once more. In the well of jade darkness under the stairs, something moved. The shape of a hand clawed up over one of the upper steps, then receded.
"Weird," Anya breathed, resting her heart-shaped face in her hand. "What else have you got?"
"This." Brian handed her his headphones, still warm from his ears. Anya fitted them over her head, listened to a static hum of low-level white noise that barely vibrated an on-screen noise meter.
"I don't–"
"Wait for it."
There. A hiss shivered the line on the meter. A voice–reedy and snarling–ripped the volume line to the top of the meter: "Mine."
Anya frowned. "Can I hear it again?"
Brian backed the tape up. Static hummed, something hissed, and the voice repeated: "Mine."
Anya pulled the headphones off, disentangling them from her sleep-tousled chestnut hair. Her hair caught on the copper salamander torque she wore around her neck and she gently unsnarled it. The salamander gripped its tail in its front paws, the tail sinuously curling down to disappear between Anya's breasts. The metal, as always, felt warm to the touch. "Did you guys provoke it?"
"Of course. We told it that it was ugly and that its transvestite mama dresses it funny." The youngest member of the group, Max, grinned at her, megawatt smile splitting his brown face. He'd been exiled to the floor, hands wound in his warm-up jacket, his sneakers and long legs tucked under one of Brian's TV tables.
Jules smacked him on the back of the head. "Max got too mouthy with it. Started in on the 'your mama' jokes while I was reading the scriptures to it."
Max ducked. He was still on probation and was very close to getting booted from the group. Anya hoped the kid would stay, that he would eventually fill the spot on DAGR's roster from which she was trying to extricate herself. Though no one could do exactly what she could do, it would be good for them to have someone new to focus on.
"So…what is it, exactly?" Anya asked, redirecting the conversation from Max's punishment to the matter at hand.
"We don't think it's the old lady's husband." Katie's hushed voice came from the darkened kitchen as she pushed Ciro's wheelchair across the wrinkled olive-colored carpet. Katie was DAGR's witch. She was dressed in jeans and a patchwork blouse, her blond hair curled over her back, tied with black velvet ribbons. A silver pentacle hung just below her throat, gleaming in the dim light. "It feels like an impostor, something toying with her."
Ciro folded his gnarled ebony hands over the blanket in his lap. The light from Brian's computers washed over his small-framed glasses, and he smiled at Anya. "Hello, Anya."
"Hi, Ciro." Anya crossed to the old man and gave him a hug. He felt more fragile than the last time she'd seen him. It had to be a serious event for Ciro to be here… he was the group's on-call demonologist. And he was the one who had brought them all together, over Jules's objections. Ciro understood, more than anyone else, what it cost Anya to be here with them.
Anya put her hand on Ciro's thin shoulder. "Is it a demon, then?"
Ciro shook his head. "I don't think so. I think it's one pissed-off malevolent spirit that's moved in. The woman's grief opened the door… but it's a tough bastard."
"You tried to drive it out already?"
Katie nodded. "Salt, bells… we even brought in a priest. It's rooted here and we can't dig it out." From the corner of her eye, Anya watched Jules frown at Katie. He didn't think much of Katie's methods, either. Jules preferred to put the fear of God–or at least his version of it–into ghosts to scare them out the windows, but that seemed to be working less and less. Anya observed the carbon stains worked into Katie's fingernails. The witch had been trying hard, but all her spells and incantations had also failed to drive it away. This had been happening more and more often in recent months: recalcitrant, restless spirits that just wouldn't let go. Once a spirit had chosen to hang on, after all efforts to convince it otherwise, there was no choice but to remove it by force.
"The old lady wants it gone?" Anya asked, just to be certain. There was always the possibility that the old woman's attachment prevented it from leaving. Perhaps, in her loneliness, she'd taken in a spiritual boarder. Anya understood how isolation could cause a person to unwittingly do things contrary to one's best interests. An empty, silent house left a lot of room for ruminations, for regrets. And, sometimes, sinister things could move into those spaces.
"She wants it out. She wants to sell the house and move to Florida." Ciro smiled. "I'm jealous."
"Will you do it?" Jules's expression was pinched. "Will you get rid of it?"
Get rid of it … that sounded so tidy. So clean. Like taking out the garbage. Ciro glanced sidelong at her, the only one with an inkling of what this cost her, over and over again.
"Okay." Anya shrugged off her coat. "Take me to it."
* * *
Bio
Laura Bickle has worked in the unholy trinity of politics, criminology, and technology for several years. She and her chief muse live in the Midwest, owned by four mostly-reformed feral cats. Her short fiction has appeared here and there. Embers, her debut novel, is first in an exciting new urban fantasy series that continues with her forthcoming second novel, Sparks.
Laura also writes as Alayna Williams. Alayna's "debut" will be Dark Oracle, Pocket Juno's June 2010 release.
To read more of this excerpt click here:
Author websites:
Author Blogs:
www.salamanderstales.blogspot.com
www.delphisdaughters.blogspot.com
Truth burns.
Unemployment, despair, anger–visible and invisible unrest feed the undercurrent of Detroit's unease. A city increasingly invaded by phantoms now faces a malevolent force that further stokes fear and chaos throughout the city.
Anya Kalinczyk spends her days as an arson investigator with the Detroit Fire Department, and her nights pursuing malicious spirits with a team of eccentric ghost hunters. Anya–who is the rarest type of psychic medium, a Lantern–suspects a supernatural arsonist is setting blazes to summon a fiery ancient entity that will leave the city in cinders. By Devil's Night, the spell will be complete, unless Anya–with the help of her salamander familiar and the paranormal investigating team –can stop it.
Anya's accustomed to danger and believes herself inured to loneliness and loss. But this time she's risking everything: her city, her soul, and a man who sees and accepts her for everything she is. Keeping all three safe will be the biggest challenge she's ever faced. Read more
When mechanic and shapeshifter Mercy Thompson attempts to return a powerful Fae book she'd previously borrowed in an act of desperation, she finds the bookstore locked up and closed down.
It seems the book contains secret knowledge-and the Fae will do just about anything to keep it out of the wrong hands. And if that doesn't take enough of Mercy's attention, her friend Samuel is struggling with his wolf side-leaving Mercy to cover for him, lest his own father declare Sam's life forfeit.
All in all, Mercy has had better days. And if she isn't careful, she might not have many more to live…
Check out an excerpt from Chapter 1.
Check out great reviews on the following sites:
http://wickedlilpixie.com/2010/03/22/silver-borne-patricia-briggs/
http://www.lovevampires.com/pbsilverborne.html
Deal of the Week!
If you are a Barnes and Noble Member you can save 40% of your purchase of Silver Borne. Good this week only.
It's that time again!! The count down to season 3 of True Blood has officially begun. HBO is airing new sneak peaks at the upcoming season (and when I say sneak, I do mean sneak). They are about 15 seconds on average and don't give away anything because they are completely taken out of context, but that won't stop hardcore fans from speculating!
I have to admit, when I saw the clip of Sam my heart melted a little bit. Boy have I missed that southern accent! I can't wait for the new season and I know that they are going to deliver as promised.
Here are two clips that I have seen circulating the web thus far.
True Blood: Eric–Waiting Sucks
This week we have a sneak peak of the new YA novel, The Body Finder by Kimberly Derting. The book is available now in stores and has had fantastic reviews. And of course, to encourage you to share the love, we are running a contest that includes some awesome Body Finder SWAG!!!! We've got a poster, signed bookmarks and an awesome tote bag to give away, so there will be more than one winner.
To enter the contest simply read the prologue and post a comment below. You get one entry for commenting, one entry for each time you tweet about the contest on Twitter. (Note: you must be a follower of Wicked Jungle and include @wickedjungle in your tweet for it to count!). The contest ends Saturday March 27th at 12PM Eastern!!!
For additional fun, you can click on the link to watch the book trailer for The Body Finder, and of course  the prologue is below. Enjoy!
A BIG THANKS TO KIMBERLY for joining in the Wicked Jungle Fun!
PROLOGUE
Violet wandered away from the safety of her father as she listened to the harmony of sounds weaving delicately around her. The rustling of the leaves mingled gently with the restless calls of birds and the far-off-rushing waters of the icy river that lay beyond the trees.
And then there was another sound. Something she couldn't quite identify. Yet.
She was familiar enough with the meaning of this new, and misplaced, noise. Or at least with what it signified. She had been hearing sounds, or seeing colors, or smelling smells, like these for years. For as long as she could remember.
Echoes, she called them.
She looked back at her father to see if he had heard it too, even though she already knew the answer. He hadn't, of course. Only she could hear it. Only she understood what the haunting sound foretold.
He walked casually behind her, at his same slow and steady pace, keeping a watchful eye on his eight-year-old daughter as she ran ahead of him.
The sound whistled past her again, carried on the breeze that sent crisp, golden leaves swirling around her ankles. She stopped briefly to listen, but once it passed she continued on ahead.
"Don't go too far," her father dutifully called from behind her. He wasn't really worried about her out here. These were their woods.
Violet had practically been raised in this forest, learning about her surroundings, learning how to tell what direction she was facing by the lichen growing on the tall tree trunks, and knowing how to tell the time of day by the position of the sun…at least on those days when that sun wasn't obscured by the gloom of cloud cover. This was easy territory, even for an eight-year-old girl.
She ignored her father's warning and wandered off the path, still listening to that something that was beckoning her forward. Her feet felt propelled by a will of their own as she struggled to make the sound into something coherent, something she could identify. She stepped over fallen branches and walked through a sea of fern fronds that grew up from the damp ground.
"Violet!" She heard her dad's voice breaking through her concentration.
She paused, and then called back, "I'm right here," although not as loudly as she should have before she started walking again.
The sound was getting stronger. Not louder, but stronger. She could feel the vibrations practically resonating beneath her skin now.
This was how it was with these things. This was the way these feelings came to her. They were indescribable, yet to her they made perfect sense.
And when they called to her she felt compelled to answer.
She was close now, so close that she could hear a voice. That was what this echo was, a voice. Single and solitary, seeking someone—anyone—to answer it.
Violet was that someone.
She stopped at a mound of damp dirt covered with a thick layer of rotting leaves. The soil was oddly out of place amid the undergrowth, with nothing living springing up from it. Even Violet knew that the soil was too newly placed to have fostered life just yet.
She knelt down, feeling the pulsating echo coming from beneath. She could feel it reverberating within her veins, coursing hotly through her small body. Without waiting, Violet brushed away the leaves and debris with a sweep of her coat sleeve, before she began earnestly scooping at the soft earth beneath with her hands.
She heard her father's light footsteps catch up with her and his gentle voice ask, "Find something, Vi?"
She was too lost in her task to answer, and he didn't pry. He was used to this, his little girl searching out the lost souls of the forest. Without speaking, he leaned against the soaring trunk of a nearby cedar and waited without really watching.
Violet felt her fingertips brush against something hard and smooth, cold and unyielding. She shuddered against a disturbing awareness that she couldn't quite name and kept digging.
She sank her fingers into the moist soil once again. And again, they touched something chillingly firm.
Something too soft to be a rock.
And it was back, that nagging something that was trying to get through to her.
She reached in again, this time not to dig, but to sweep away the thin layer of dirt to get a better view of what lie beneath. She had captured her father's interest and he leaned over her, looking into the shallow hole.
Violet worked like an archeologist, carefully sifting and brushing across the top of her discovery, so as not to disturb what might be buried there.
She heard her father gasp at the same time she recognized what she had uncovered.  She felt his strong hands reaching for her from behind, pulling her firmly by the shoulders away from the fresh dirt and gathering her into his strong, safe arms…away from the sound that was calling to her…
And away from the girl's face staring up at her from beneath the soil.
And then one wondrous night she hears the voice of her lover calling on the wind. She creeps into the night, enraptured by the hardness of the grass on her bare feet. The cold breeze tingles her skin through her thin nightdress. She wants to merge with nature: be the rejuvenating rain falling upon the earth; the fire that devours with a raging lust; the adamantine rock which endures with a spirit never-ending; the libertine, invisible air that flits and gusts so wantonly. She desires to lie with her love and know his contentment. Then she reaches the forest where the leaves flow silver with moondrops.
A tantalising sensation fills her with longing. With a soft rustling, a figure emerges from the greenwood: a beautiful naked man with copper-coloured hair. His skin glows mottled silver, covered in tiny veins. His limbs are strong and wiry and when he moves a barely perceptible sound makes her shudder. Read more
Imagine my delight when I found this fun little link
(Pocket Books Urban Fantasy Spring Preview)
waiting for me on my Facebook page! Pocket Books is offering a free sampler from some of my favorite authors! Definitely check out Embers by Laura Bickle and Bad to the Bone by Jeri Smith-Ready. Here is the rest of the line up:
MASTER OF NONE By Sonya Bateman
EMBERS By Lauren Bickle
AMAZON QUEEN By Lori Devoti
SHADOW BLADE By Seressia Glass
SPIDER'S BITE By Jennifer Estep
WEB OF LIES By Jennifer Estep
DEMON POSSESSED By Stacia Kane
NECKING By Chris Salvatore
BAD TO THE BONE By Jeri Smith-Ready
Enjoy! Let us know if you have a favorite!
We are celebrating the release of the New Moon DVD by giving away a copy of the DVD, Soundtrack, and Illustrated Movie Guide. Want to know how to enter? It's simple really. Just post a link to the contest on your website or blog and leave a comment with the blog link so that we can verify your entry.  Want a second entry in the drawing? Add WickedJungle.com to your blogroll. Want a third entry? Sign up as a fan on the WickedJungle Facebook Fan Page!
That's it. Game on. The contest closes at Monday at 12AM Eastern. Good Luck.
PS–the contest is open to U.S. residents only. We will not ship internationally. But hang tight, we have more contests lined up in the next two weeks that will be perfect for international fans!
Candles illuminate the circle, the walls barely visible at the edges of the dim light. In the center a figure, clad in flowing black robes with intricate patterns of swirls and glyphs sketched in a shimmering blue silk, kneels with his head bowed.
"Varium salitus exporium ver corpium…" He chants slowly, his voice barely a whisper.  The candles begin to sputter as a breeze fills the small chamber.  The sound almost drowns out the man's whisper, "I don't want to love her anymore." Read more